Something strange has happened to our weather. Having had a sunny day two weeks ago for a visit to the ostentatiously large historic property at Cliveden, on Friday we had yet more sun. We'll be getting spoilt. Friday's bout of sunshine gave Carol a hankering to visit another ostentatiously large historic property of the National Trust, Waddesdon Manor this time. Carol has visited Waddesdon Manor several times before but her specific draw on this occasion was a couple of large patterns in the grounds made from old CDs. That sounded like an interesting addition to Waddesdon's usual Christmas display so, regardless of my being mostly bored by houses of the unfeasibly rich, I tagged along for the ride. We shelled out the £5.90 for heathen non-National-Trust-member and arrived here. [Considering that this fee does not cover entrance into the house itself but only to the grounds, and that at this time of year the grounds contain little more than statuary all of which is covered up and cannot be seen, I'm really not sure what justifies an admission fee to the grounds at all.]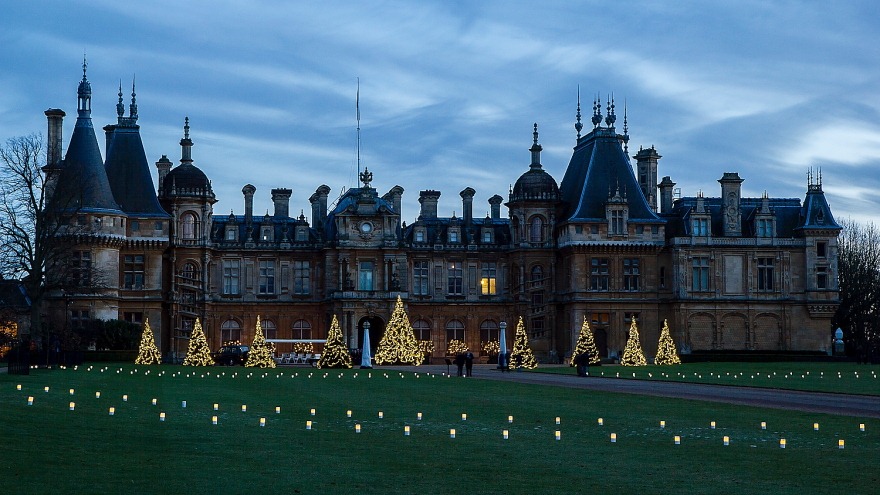 Silly me, I thought the arrangements of CDs [musical joke there, somewhere] were Waddesdon Manor staff having fun enhancing their Christmas display. Apparently not, the nailing of CDs into the Waddesdon Manor turf was actually the work of "international light artist", Bruce Munro. I know this only because there were information boards saying so. Alarm bells rang in my head as thoughts of the Tate Modern sprang to mind. An accompanying information leaflet claims:
Bruce is one of the most exciting practitioners in this rapidly evolving field.
Right! What field would that be, anyway, the field of nailing CDs to a field? Is that rapidly evolving? Try that with an MP3. 😀
You may not realize it but you can sort of see part of one of these works of art in the above photograph. No, not the Christmas trees, the lines of what are actually battery-operated LED candle lanterns. The battery-operated LED candle lanterns "outline 50,000 CDs laid out in a precise radial pattern".  From this angle it looks as though it might be a circle but it's actually an ellipse. This is the so-called North Front of Waddesdon Manor and, much as it needs a little decoration to make it interesting IMHO, I'm not sure this does anything for it. The artwork is called Angel of Light. I can't work that out; it being an ellipse it bears absolutely no resemblance to an angel that I can determine. In this environment, I'd have looked for an Angel of Light on top of one of those Christmas Trees, personally. Another problem with it is that it can only really be seen from a helicopter. Right on cue, a helicopter did, indeed, fly over while we were there but it was military and I don't think it had come to view 50,000 CDs, even if they had been precisely arranged. This display may have looked more impressive when it was pristine but with accumulated moisture, detritus and blades of grass growing through and dulling the CDs, anything it did have seemed a bit lost, certainly on me. (You can get a better impression from a more elevated position in one of the pictures here.)


Our first port of call upon arrival and when considerable daylight remained had been Bruce Munro's other artwork, Blue Moon on a Platter. Now here was something even I thought I could understand: the Platter was once again thousands of "second-use" [sigh] CDs nailed to the banks of the Waddesdon Manor amphitheatre and on the platter sat a globe, the Moon. Got it! Well, mostly got it. The Moon is filled with 150 spheres containing optic fibres which "glow with a changing palette of light". OK, so if the colour's changing all the time, why is it a "Blue Moon", pray tell? Whatever, as you can see from my initial shot (left), daylight doesn't do it any favours. Neither, once again, do the fallen tree leaves, pine needles and irritatingly growing grass. Clearly what we needed was the Moon to glow. We returned in the gathering darkness to see it to much better effect (right). This one looks quite impressive in the dark and it has the added advantage of being able to be seen by earthbound people – military helicopter unnecessary.

Much more of this and I might as well join the National Trust.