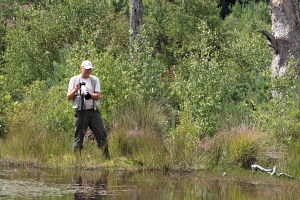 Here's yours truly, complete with sun hat, camera, monopod and wellies, wading in the boggy ground of Ramsdown Plantation stalking dragonflies. I think of Ramsdown as being the New Forest though I believe it is technically outside the boundaries of the park.
I spent my career in the computer software industry where I managed to remain a technician until October 2005 when opportunity knocked – the opportunity to stop being paid by that company, that was. [Age 52 – par for the course.] Much of my time was spent working on assigments in the United States where we made and still have many friends. Having begun life as an IBM assembler language programmer, I latterly had been enjoying Web application development using Java, both the programming language and the coffee. See, you can teach an old dog new tricks.
I still enjoy dabbling with Internet technologies, hence this web site, and can no longer write legibly without a keyboard. Having been planning for (or should that be hoping for?) early retirement, work giving me up was the spur that we needed to bite the bullet and go for it. No regrets whatsoever!
Retirement provides sufficient time to pursue leisure interests, mine being the natural world. I am interested in most things with a heartbeat (or semblance thereof) and butterflies have been favourites for many years. These days, however, Odonata have become something of an obsession.
Current photographic equipment:
Canon EOS 7D mkII DSLR camera
Canon EF-S 10-22mm f3.5-4.5 USM lens
Canon EF 100-400mm f4.5-5.6 L IS USM mkII lens (so much better than the mkI)
Canon EF 1.4X Extender (used with above, generally, and below, sometimes)
Sigma 150mm f2.8 EX DG OS HSM macro lens [how's that for a mouthful?]
Canon Speedlite 420EX flash (occasionally)
Olympus OM-D E-M1 mkII M4/3 camera
Olympus OM-D E-M1X M4/3 camera
Olympus M.Zuiko 300mm f4.0 IS PRO lens
Olympus M.Zuiko 40-150mm f2.8 PRO lens
Olympus M.Zuiko 60mm f/2.8 Digital ED macro lens
Olympus M.Zuiko  12-40mm f2.8 PRO lens
Manfrotto 694CX carbon fibre monopod
Filters:

UV haze (Hama & Hoya)
Circular Polarizers (Hoya)

Wellington boots (size 11) – necessary as in the above picture
Salomon Techamphibian shoes – designed for walking in rivers; good in (warmer) France