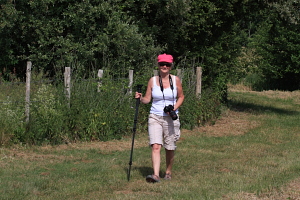 Carol is easily distinguished by being smaller, better looking and having a mass of naturally curly hair. Here she is doing what we enjoy most, walking and stalking multi-legged critters. In this case, she's walking beside Le Loir at Luché-Pringé, hiding her hair under a splendid pink casquette.
Carol spent her career in the computer industry where, after going through the usual application programming route into middle management, she eventually made her way into the world of network security. As with all things, she attacked this with gusto but, being spurred on by work giving up on John, decided to go for the life of leisure and took to retirement like the proverbial duck to water.
When not away pursuing n-legged critters or rummaging around in the undergrowth for wild flowers, she now spends her Wednesdays doing volunteer work for the Greensand Trust helping to preserve our local environment. This largely seems to be an excuse to slash scrub and build bonfires, though wading in ponds also seems quite prominent.
Current photographic equipment:
Canon EOS R mirrorless camera
Canon EOS 5D mkIII DSLR camera [backup]
Canon EF-S 24-105mm f4 L IS USM zoom lens
Canon EF-S 18-200mm f3.5-5.6 IS USM zoom lens [handy general purpose travel lens]
Canon EF 100mm f2.8 L IS USM macro lens [simply superb!]
Canon EF 70-300mm f4-5.6 L IS USM Lens [pin sharp but the tripod ring is an expensive extra]
Manfrotto Carbon One 440 tripod
Filters:

UV haze (Hama)
Circular Polarizers (Hoya)
ND6 soft grad (Lee)
ND6 hard grad (Lee)
ND9 hard grad (Lee)
ND9 (Lee)
Lee Big stopper (10-stop ND)
Lee Little Stopper (6-stop ND)