There is nothing like the frighteningly unwelcome appearance of a BSOD [Blue Screen Of Death] as ones computer crashes to enforce the backup lesson that one learned almost a year previously. As well as on less than 100% reliable DVDs, I now had our entire photo library on my Dell XPS desktop's 1.5Tb hard drive but in mid November it threw me a BSOD and failed to reboot. If it could not have been resuscitated, I'd have a serious amount of egg on my face. Fortunately, a replacement memory board had me back up and running again.
When it comes to irreplaceable digital information, a belt and braces approach is definitely a good idea, just in case the belt breaks or the braces snap. My belt was our ever-growing collection of optical media (DVDs). Since that belt had already broken once, I was keen to buy a pair of braces, too. A USB-connected external hard drive would, in the embarrassing event of a catastrophic computer failure, enable me simply to plug said external hard drive into any replacement machine and once again be able to access our data. I started casting around on good ol' Amazon and good ol' John Lewis for candidate purchases.
Now, there are clearly a lot of total plonkers in the world and many of them appear to write product reviews on Amazon. After reading several ludicrous comments one begins to see the level at which some of Joe Public operates so it is well to take many of these reviews with a hefty pinch of salt. However, when it comes to external hard drives, a pattern definitely begins to emerge: external hard drives are clearly prone to more than infrequent failure. My Dell laptop suffered a catastrophic failure of its original hard drive and that's the only hard drive crash I've ever experienced, mercifully. The external hard drives, though, for some reason sound as though they fail more readily than internal hard drives. I have no statistics to substantiate this but it's a feeling I developed from the numerous reviews I read written by apparently sane examples of Joe Public. Nonetheless, with at least a number of positive reviews and at a mere £69.99 on Amazon, I was attracted to a Seagate STBV2000200 2TB Expansion USB 3.0 3.5 inch External Hard Drive. Let the fun commence!
Dear ol' Amazon has a relatively new facility called Amazon Locker and was offering a reduced (£1.99) one-day delivery trial. Rather than waiting in at home on tenter-hooks awaiting a delivery, using Amazon Locker you can have your purchase delivered to a collection facility and pick it up at a time that suits you. In the UK, the collection facilities used are those run by Collect+. Here's the theory: Amazon delivers to your chosen Collect+ depot, you then receive a Collect+ collection code and trot down to claim your parcel at your leisure. What a great idea. I'd previously used Collect+ to return an item to Craghoppers and that went well but was yet to use it for collection.
I placed my order on Friday 28th December, albeit with a little fuss 'cos the Amazon website didn't seem to want actually to use the trial delivery charge; a chat with customer services fixed that. Sure enough, on Saturday 29th December the courier's tracking code showed me that my order was delivered to my nominated Collect+ depot at 9:45 AM. I eagerly awaited my collection code. At midday I was still eagerly awaiting my collection code. Late that afternoon I still continued eagerly to await my collection code and began the first of several further contacts with Amazon customer services.
"Give it 24-48 hours", they said.
"That rather ruins the point of paying for next day delivery", I replied, logically.
Amazon, bless them, refunded my delivery charge.
I actually trotted down to the Collect+ depot and explained the situation but, as I expected, without a collection code I could not pick up my parcel because it could not be released by "the system". There are times when automated systems suck and this was one of them. I knew my package was sitting in the storeroom but I couldn't have it.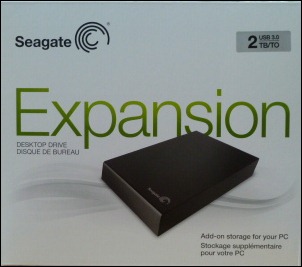 48 hours later I was continuing eagerly to await any collection code and wqas now fearing the worst. After another couple of interactions with Amazon customer services over another couple of days, we learned that Collect+ wasn't issuing a collection code because the package didn't seem to have been entered into the system. Amazon (bless them) shipped me a replacement Seagate STBV2000200 2TB Expansion USB 3.0 3.5 inch External Hard Drive to be sent by guaranteed delivery to my door. It duly arrived successfully and I plugged it in, received the traditional "new hardware detected, driver being installed" malarkey, and was up and running almost immediately. Better!
Of course, just having a "spare" external hard drive installed does not do anything to ensure backups are taken any more than does possessing a spindle of DVDs – you still have to remember to make your backup. However, as a part of my investigations, I had found a couple of companies providing freeware that will monitor selected folders and maintain a duplicate/synchronized copy for you automagically. I installed and began to use Comodo Backup.
Using Comodo Backup, you can choose when synchronized copies of your specified directories are maintained. One option is "automatic" meaning that the software sits watching for changes to occur and replicates them. I duplicated our "Photo Library" on my new external hard drive and, lo and behold, as soon as I made a trial change to my "live" library, the duplicate was immediately synchronized and remained in step. Marvelous! I got carried away with this seemingly wonderful facility and repeated the exercise using "My Documents" and "My Pictures". [I detest those childish phrases/names.]
Mistake! Our "Photo Library" is one thing; I put images in there after we've finished monkeying around with them – "Photo Library" is completed work. A couple of days ago I'd been snapping garden birds and went through my digital dark room work flow which begins by loading my RAW files into "My Pictures". I decided to delete two v. poor images for good to try and protect my reputation. I selected the pictures in question and hit the <Del> key. Away went the pictures. Next time I looked, I was more than a tad surprised to see them still in the folder. Was I dreaming? Had I forgotten to hit <Del>? I selected them again and once more hit <Del>. This time I continued to watch my screen. Sure enough they disappeared but about a second later, bing! – the two pictures magically reappeared. Arghhh! The penny dropped: my smart new automated synchronization task was re-instating the deleted pictures from my duplicate copy. Laugh, I nearly cried!! Deletion was impossible from either place. Now that's what I call secure. Best to use delayed synchronization on work in progress type folders/files such as "My Pictures" and "My Documents" … daily perhaps. Another lesson learned.
Interestingly and most frustratingly, I failed to find any way to redefine previously defined synchronization tasks in Comodo Backup. I found some instructions for doing so on a Comodo forum but those instructions did not match my software – they weren't even close – so I fell at that hurdle. I uninstalled the software and deleted all its data. I'm hoping that reinstallation will allow me to define sensible sync schedules for my work in progress folders, though I have yet to try. Duh!
Anyway, belt and braces in place.
Technorati Tags:
software
,
PCs
,
computers
,
backups
,
synchronization
,
data
,
external hard drive
,
Seagate
,
Amazon
,
Collect+
,
photography.