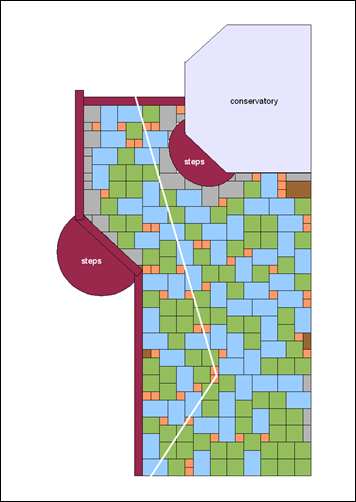 About 9 or 10 years ago we invested in a conservatory and extended our patio so we could better enjoy our back garden which overlooks woodland. Since our back garden slopes away at an angle of about 25°, extending the patio required a retaining wall which, in turn needed back-filling to build up the ground level. Unfortunately for the contractors, they had to barrow the filling material around manually. Unfortunately for me, the contractors didn't use a compacting plate on the filling material. Over the years usage and gravity have done their work and compacted it for me; the patio paving slabs had subsided by up to 2ins/5cms in a couple of places. Time to try and level it.
The patio is a "random" pattern of three sizes of slabs. It's like a jig-saw and, realizing that there was no way I'd get it all back together correctly without a map, I had made one about a year ago when I first thought I needed to fix the dips. Everything left of the white line in my diagram had subsided and needed levelling. Incidentally, the right of the white line has a more solid base: the old original patio.
On Thursday I bought 20 x 25kg bags of sharp sand to put under the slabs and build the level back up. The quantity was a complete guess based upon the fact that, if I bought 20 bags, I got a reduction on the price. Lifting that 500kg load four times in all – pallet to trolley, trolley to car (the car groaned), car to garage and garage to patio – was definitely good exercise (I groaned). Thursday remained dry and, in addition to transporting the sand, I lifted and levelled about a third of the slabs.
The low point of Thursday was when I realized that an innocuous-looking plant had rooted itself in the retaining wall and grown well. Closer inspection revealed that its roots had also grown and thickened, lifting the top course of bricks on the retaining wall over a length of about 8 feet. It's amazing how much damage can be done by a small flowering plant.
Friday remained dry but things were about change, apparently. I got an early start and finished lifting and levelling the remaining subsided slabs. At least now rain shouldn't be too disastrous.
Early rain cleared and I began Saturday by buying two 25kg bags of mortar (no groaning from the car, this time). I returned to set about repairing the damaged wall by removing the loosened bricks, cleaning off the old mortar and relaying them. That took care of one bag of mortar. I'm no bricklayer but the wall is a whole lot better than it was. In the remaining hours of the afternoon I got the remaining mortar between my newly levelled slabs.
There's a few more fiddly bits of repairing to do but I've broken the back of Project Patio. With all that lifting, I've darn nearly broken my own back, too. 🙂