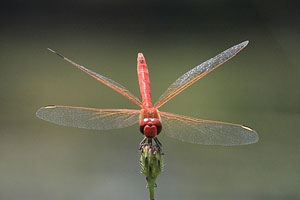 … to John & Carol's world of Odonata – dragonflies and damselflies.
Odonata is the scientific term for the order of insects comprising dragonflies (Anisoptera) and damselflies (Zygoptera). Odonata is sometimes Anglicized into "odonates" but it seems to be becoming more fashionable to use "dragonflies" as the collective English/common term forcing the rather ugly [my opinion] term "true dragonflies" to be used for, well, dragonflies. I stick to Odonata or Odos for short. Besides, the word lends itself to irresistible puns like "Odo-nutters".
Messrs. Smallshire & Swash list 44 species of (potentially breeding) Odonata in the UK. According to Dijkstra/Lewington, there are ~100 in France, i.e. within relatively easy and fun (for us) reach; we travel there often. Carol having caught the dragonfly bug as well – if you can't beat 'em, join 'em – our catalogue outgrew our usual one page photo album, in addition to which I wanted to record other details, such as what species we'd seen where and flight periods. Hence this micro-site dedicated purely to the delightful dragons and damsels.
Our Galleries section is still one page each for damselflies and dragonflies, mainly based on our better photographic efforts. It is English/common name based and enables paging through the various collections easily.
Our Species section dedicates a page to each species using scientific/binomial names rather than English/common names. This decision was based on my hoping to see species further afield for which there would be no English name. [Fingers firmly crossed!]